Pricing Your Home To Get Top Dollar
Posted by Serge Bourgoin on Wednesday, February 1, 2023 at 5:58:42 PM
By Serge Bourgoin / February 1, 2023
Comment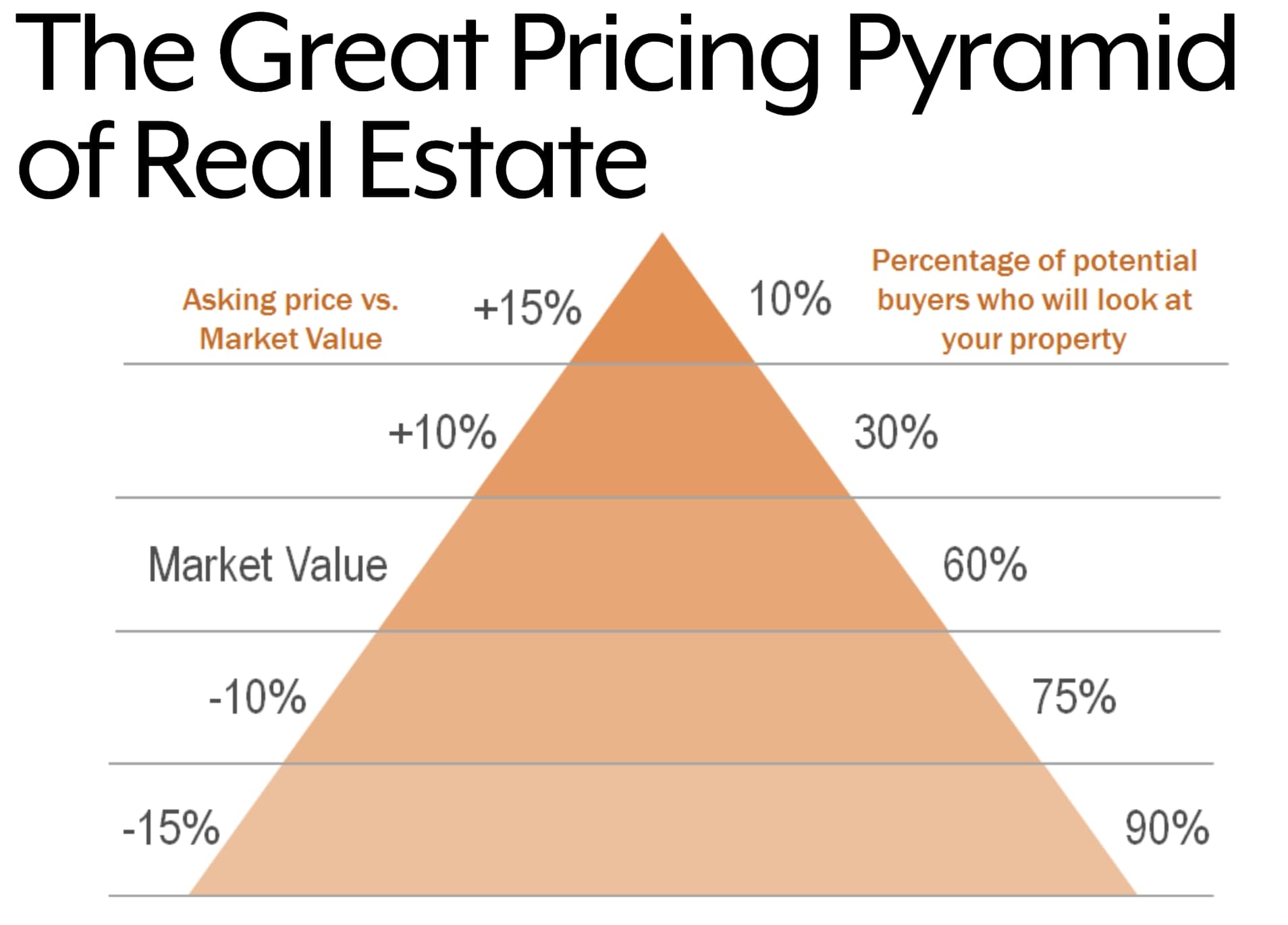 This is what exactly?
Realtors use this price pyramid to demonstrate the importance of accurately pricing property for years. A Comparative Market Analysis is used to evaluate the market worth of your home (a.k.a. CMA). The CMA compiles the prices of nearby properties that are comparable to yours and have either sold or are currently on the market. Real estate agents will appropriately modify or adjust the "comps" making them equal (comparing apples to apples after adjustments) to determine a proposed market value for your home. Depending on inventory levels, the numbers on the price structure pyramid will change slightly, thus it's crucial to work with a realtor who is aware of the state of the market.
How does it work?
Let's say your Realtor estimates the market value of your house at $500,000. You want to sell the house as soon as possible, but you are not in a dire condition. In this scenario, your realtor might price the house accurately at $500,000 market value, anticipating that a decent number of prospective buyers (60%) will look at the home and perhaps snag it off the market in a reasonable length of time. However, setting your home's price too low could cause some issues. Therefore, even though 90% of potential buyers may consider your property if it is priced at $425,000, many of them (as well as other Realtors) will question the low price and be deterred from looking at the property out of concern that they may discover structural problems, expensive repairs, or other problems.
What actually happens?
Each realtor has a unique approach to pricing. Some charge a high price in the hopes of scoring a home run, but they always have the option of lowering it if the market rejects their initial proposal. However, as was already discussed, the key is to price your home close to market value if you want to get the most exposure to the buying public. A home's price can be difficult to determine. Seasonal changes and market movements should be taken into account. Hire a knowledgeable Realtor to assist you in the process, and make sure you do so.
Want to find out the market value of your home? Free Online Request for Home Evaluation